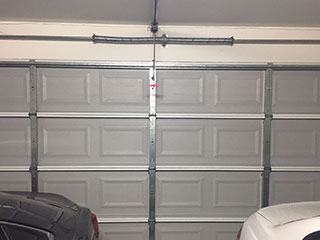 Your garage door springs are strong, powerful and ready to do the crucial job required of them. But that doesn't mean they are unbreakable. Springs carry a great deal of weight every day, and need to carefully control how your door moves every time you open or close it. This hard work can lead to wear and tear, and eventual breakdown if left untreated. Our technicians believe prevention is better than cure, and will be able to discuss a regular maintenance plan to keep your springs healthy long into the future.
Replacing Broken Springs
Because they are tasked with lifting and lowering your door up when opening and closing, if a spring snaps or becomes stuck, your door will be temporarily rendered useless. To repair this and get your door operational again, our technicians will first safely secure the door, then replace the broken spring – if one of yours needs replacing, it's always a good idea to invest in a new set, to ensure good balance and to protect against repeat spring-triggered breakdowns. Our team can install the new springs and calibrate them to establish the correct amount of tension for optimal operation.
Can You Service Existing Parts?
The short answer, yes! Garage door parts are subject to heavy use, and springs are no different – chances are you send your door up and down multiple times a day. Years of regular use can leave these parts straining, which is why our technicians recommend arranging a regular maintenance schedule. We can keep your door in good nick by conducting regular tests and implementing minor fixes.
Are There Different Types Of Springs?
Yes – overhead door systems usually make use of either torsion springs, which are generally known to be durable and safe, or extension springs, which are cheaper and installed at a lower position, come in pairs and installed either side of the door.
Don't Do It Yourself
A DIY approach around the house may well save you a bit of money in some cases but don't attempt it when it comes to your springs. They're loaded with tension and can be very unpredictable to handle. Unless you are trained to work with these machines, you could easily end up making the problem worse, or put yourself in danger.
Call Us Today!
We have over ten years of experience repairing faulty springs and other garage door malfunctions. Trust Garage Door Repair Los Alamitos to give yours the service it needs with the speed and efficiency you deserve. Get in touch today!
In addition, count on us for:

Roll up Garage Door Maintenance

Opener Sensor Repair & Replacement

Extension Spring Adjustment

Garage Door Receiver Repair