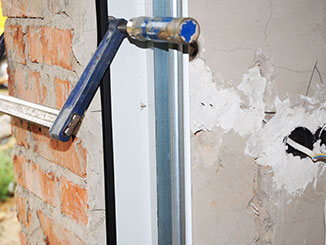 In an ideal world your garage door should work smoothly and quietly, first time, every time. But every time you click that button, you're commanding a complex machine to perform a number of complicated tasks. Multiply that by the number of times you open or close your door each day, and it'll become clear how wear and tear can build and build until a repair is needed– that's where we come in.
Is Your Door Too Loud?
Most garage doors emit some degree of noise, especially when in operation. But as you quickly become accustomed to the sound, you are bound to notice when something suddenly doesn't sound right - an overly noisy garage door is enough to drive anyone crazy. There are many reasons why your door may be emitting more sound now: the rollers may have become worn, the opener may be failing or the anti-vibration pads may need replacing. We will diagnose the problem, and get to work repairing it.
Why Is Nothing Happening?
When a garage door remote control fails, it can leave you feeling frustrated. After all, this is a mechanism that is supposed to make your life easier, not more challenging. It can also be more serious than merely irritating, leaving you locked inside or open and vulnerable to intruders. When operating optimally, your remote transmits a signal to its receiver. Some remote control failures may contain faulty transmitters, which are unable to direct the signal properly. This can occur when the remote becomes damaged, either by being dropped or scratched. It may also be that the problem lies with a programming issue or the opener itself.
The Perils Of DIY
A stuck or jammed garage door can derail your entire day. If yours isn't moving, don't attempt to force it or fix it yourself. Your door relies on a complex system of high-tension springs, tracks and levers, and these can cause physical harm and further damage if mishandled. The best way to manage the frustration of a stuck door is to call our experts in to take a look – it is the best, most effective way of ensuring your door does not get stuck again anytime soon!
Get in Touch Today!
Our team of technicians at Garage Door Repair Los Alamitos have over a decade's worth of experience when it comes to dealing with stuck, jammed or broken overhead doors. Don't despair – get in touch today.
Our team can also take care of:

LiftMaster Garage Door Maintenance

Opener Remote Clicker Replacement

Garage Door Extension Spring Installation

Residential Garage Door Replacement