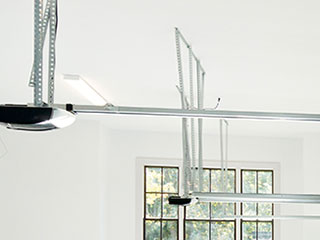 The opener is the central part of any automatic garage door system. Not only is it the unit that controls the actual movement of the door, but it also plays an important part in the safety and security of your garage. We offer comprehensive maintenance services that can help keep this unit working at optimal efficiency, expert repairs for when it breaks down, and professional installation services when you decide to upgrade to a new unit.
Extend Your Opener's Service Life
All complex machines require regular attention to attain their maximum service life, and openers are no different. Our team will thoroughly check the entire system for signs of wear or stress, clean out any built-up dirt and grease, and apply lubricant to all the moving parts to minimize friction. This reduces wear on the motor and drive system, and helps them avoid breakdowns, and prolongs the unit's working life.
Professional Opener Repairs
An opener is a complex assembly of many different mechanical and electrical parts. There are many different problems that can develop, from misaligned safety sensors to circuit board malfunctions. This can make it hard to diagnose the underlying problem, but our technicians have more than a decade of experience working with all types of chain and belt drive models, as well as screw drive units. We can quickly get to the root cause of any issue and provide an effective solution for it. We bring all the necessary tools and replacement parts with us, so we'll be able to handle pretty much every problem on the spot.
Installing New Units
Modern opener models have many advantages over older ones; they're more secure, more convenient, and often more reliable. If you're looking to invest in a new system, we can help. We work with all the major industry leaders such as Genie, Craftsman and LiftMaster, and we will happily give you advice on which particular model is best suited to your needs. Our team will make sure your new opener is installed to our excellent standards, and we will thoroughly test it once it's set up properly. You can rely on us to deliver satisfaction every time.
Get In Touch Today
Your opener is a vital part of your automatic system, and it needs to be handled by professionals. If you need expert maintenance, fast repairs, or help choosing a new model, contact Garage Door Repair Los Alamitos today.
Need more? We also provide:

Torsion Spring Repair

New Opener Remote Controls

Galvanized Torsion Spring Replacement

Automatic Door Opener Replacement