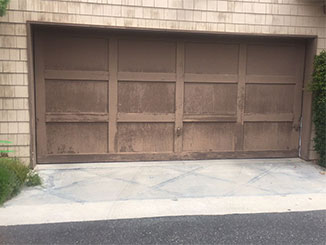 Many of us choose to paint our garage door - this is a great thing to do when it comes to protecting the door from outside elements and incorporating the door into the overall design and feel of your property. If you're planning a new lick of paint for your garage, there are factors you may wish to consider first, we explain more below!
Don't Go For The Cheapest
It is important that you look for a high-quality paint which won't wear out easily due to the impact of weather or accidental misuse. Using a low-grade paint can cause you to spend a lot of money repainting your door over and over again - this will be more expensive in the long run. We all know that a garage door with worn out paint is never a good look, so don't ruin your curb appeal by choosing the wrong coating. You should also check that whichever paint you opt for is suitable for external use and the material of your garage door.
Choose A Look That Suits The Surrounding
When you paint your garage door, it's important you look for a color and paint that will match the surrounding - usually neutral colors like grey, brown and white are best but the sky is the limit if you feel like being more creative!
Prep Your Garage Door
If your door has an existing layer of paint that has started to peel, simply covering it over with an additional layer will not solve the peeling. First, fully clean your panels with warm, soapy water and sand away any existing flakes of paint.
Give Your Panels Time To Dry Before Use
When painting your garage door, you should give it maximum time for the paint to dry before you start using the system again. We recommend you paint it in the morning so that the paint can dry over the course of the day. Alternatively, if you're planning to go away for a night or 2, this can be a great time to schedule in your re-painting. Lastly, the weather naturally matters when choosing the best time of year for re-painting. Don't let your efforts be hampered by rain or worse - it's always best to wait for a warm summer's day.