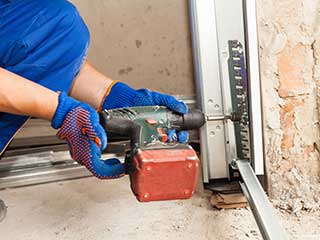 There are few things in life quite as annoying as waking up, getting dressed, and heading out – only to find you're locked in, or out, by a garage door that won't respond. Our specialist technicians are on standby to take your irritation out of the equation. We'll do our best to provide quick, efficient, and fuss-free service. After all, this is why we're highly regarded in our area. We can handle any repair job, no matter how big or small, and are experienced enough to advise you on how to ensure your garage door won't break down again in the near future.
Repair: It's What We Do
For most people, repairing a garage door is a hassle. This complicated system – with its numerous springs, tracks, and levers – can be confusing to even to the most ambitious DIY enthusiast. If you don't what you're doing, attempting DIY can also be highly dangerous when it comes to these systems. We have been repairing and installing garage doors for so long, and dealt with so many causes of malfunction, and different models, that for us, fixing garage doors is a matter of routine. Speak to us about what you think may be causing the problem – we'll come prepared to get your door up and running without wasting any more of your valuable time.
Safety Is Our Watchword
As with any complex machine, the best way to prevent a garage door problem is to plan ahead. Regular maintenance will go a long way to ensuring your door works optimally for many years. Our technicians are on hand to find a maintenance schedule that works for you. We'll ask you about your door model, when it was installed, how it has performed, and the nature of any problems you've experienced. We'll then conduct thorough safety and performance tests to gauge any repair work that's needed. We will also be able to advise you on problems that may crop up in the future, and steps you can take to prevent them.
Solutions? We Have More Than A Few
Our technicians at Garage Door Repair Los Alamitos understand that the number one objective of any garage door repair work is to get your door up and running as soon as possible. They won't stand around talking about how difficult it will be to fix your door or how expensive it will be – they'll get right to work fixing your door so you can have peace of mind. They'll also be happy to answer any questions you may have about your door's performance – call us today for great service from an experienced repair specialist.
Trust Us to Get It Done Right!

Affordable Services

Qualified & Experienced Technicians

Fast-Response Services

Excellent & Reliable Products